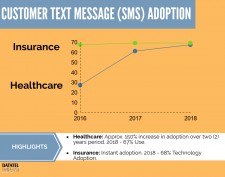 MIAMI, March 19, 2019 (Newswire.com) - Datatel Communications Inc., a leader in IVR Payments / Pay-By-Phone automation, releases data from a new study focusing on understanding the behavior of customers who pay bills using automated IVR Payment technology (Pay-By-Phone) and are providing customers with the option to receive a confirmation of payment directly to their mobile phone via Text Messaging (SMS).
The study looked specifically at the behavior of customers paying their insurance premiums and patients paying their healthcare bills.
In the healthcare field providers who offered a pay-by-phone option and presented patients with the option to receive a text messaging as part of the payment experience, saw a nearly 150 percent increase in adoption from 2016 to 2018 going from 27 percent opt-in rate to 67 percent by 2018.
"We are committed to continuing to engage in studies to better understand how to optimize the payment customer experience which will benefit both consumers and businesses alike," said Datatel's Co-CEO Barnard Crespi.
The results indicate that Text Messaging is gaining significant acceptance as a business communication channel with consumers, providing businesses with an opportunity to offer their customers an enhanced and more valuable payment experience and to engage with them in order to get feedback that businesses can apply to continue to improve in various areas of their operations.
These results and its implication to businesses are expanded in a recent article published called: TXT Messaging Adoption in Healthcare and Insurance IVR Payments.
"Through these studies, we want to help our clients better understand how to implement payment technologies which their customers are more likely to use," said Datatel's co-CEO Barnard Crespi.
About Datatel 
Datatel delivers innovative software and communication solutions to help our clients become more agile, profitable, and successful.
Datatel's Pay-By-Phone / IVR Payments  SaaS provides businesses with the most robust and cost-effective way to securely and easily process credit card payments 24/7 over the phone, in a PCI Compliant environment.
Datatel has been providing IVR Payment Solutions on the cloud to hundreds of businesses, healthcare providers, governments, and nonprofit organizations for over 10 years.
Datatel's success comes from investing in its people, clients, and technology. With a focus on innovation, Datatel has arrived at a service delivery model that guarantees its customers satisfaction.
Source: Datatel Communications Inc
Share: