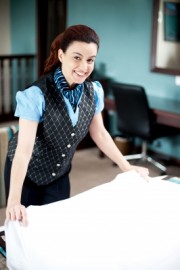 Status Tracker partners with Datatel to boost efforts to continue developing workforce management technologies and guest communication capabilities for vacation property management companies.
Miami, FL, March 25, 2015 (Newswire.com) - Datatel Inc., a leader in secure IVR (Interactive Voice Response) services on the Cloud, announces its partnership with Status Tracker, the premier cloud based workforce management and guest communications application for the vacation rental property management industry.
The Datatel and Status Tracker partnership will boost Status Tracker's ongoing efforts over the past 11 years to continue developing its platform to assist property management companies achieve the highest levels of personnel management, cost efficiency, staff loyalty, and guest satisfaction.
"Status Tracker has maintained a highly successful working relationship with Datatel for over 11 years. The new integrated relationship with Datatel opens an exciting new chapter for our company and will allow the focus of significant additional technical and marketing resources on the continued growth of Status Tracker within its current market segment in the US. It will also provide the resources for future transitioning of its mature technologies into other markets/countries requiring effective, highly cost efficient, management of widely geographically dispersed work forces."

Richard Winnick, CEO of Status Tracker
Status Tracker consists of a suite of management, communication and analytical tools to help vacation rental management companies manage staff, communicate with guests and optimize operations. It automatically assigns required tasks; monitors property status, crew progress, guest arrivals and departures in real time; facilitates resource reallocation; provides for instantaneous guest feedback; and allows managers within all company departments to stay in control of their widely dispersed geographical responsibilities. In addition to helping 'get the job done' on a day to day basis, Status Tracker collects strategic, management relevant data for employee time-cards, operational efficiency analyses, and helps answer key operational questions.
Status Tracker currently serves over 25,000 vacation rental properties, and together with Datatel, is actively working on adapting the technology for other industries with a need for remote and geographically dispersed workforce management.
"We are excited to invest in Status Tracker and expand our working partnership, which will enable its field proven technology to reach existing and new markets faster. With dozens of clients already, we firmly believe in Status Tracker's potential to transform workforce management and guest communications for companies," said Barnard Crespi, Co-CEO of Datatel.
About Status Tracker
Status Tracker has provided workforce management and guest communication capabilities to the vacation rental industry for over 11 years. Throughout this time, Status Tracker has maintained its commitment to continuing R&D and has regularly added additional capabilities based on client feedback and technological progress. This commitment to continuing product development and the highest levels of responsiveness to customer needs and support differentiates Status Tracker and with our client's support has contributed to making us the leader in our field.
For additional information, please visit http://www.status-tracker.com/
Contact:
Richard Winnick
603-206-0998
About Datatel
Datatel is a leading provider of Secure IVR (Interactive Voice Response) Services on the Cloud. Datatel's IVR Services are employed by businesses, government and service providers to automate a wide range of caller interactions over the telephone - including payments, voting, surveys, patient communications, and employee tracking applications among others.
Datatel's IVR success comes from over 19 years of research, development and continuous improvement in delivering IVR service models that provide organizations with reliability, flexibility, and security. As a Cloud platform, Datatel maintains all infrastructures, reducing expenses and ensuring rapid and worry-free implementation.
For additional information, please visit http://www.datatel-systems.com
Media Contacts:
Julie Huang
800-831-6660 x 255
Share: