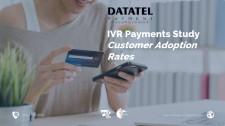 MIAMI and TORONTO, November 24, 2020 (Newswire.com) - ​Datatel Inc. in Canada, a leader in IVR Payments and Payment Technology for over 20 years, announced today the release of a new on-demand video presentation focusing on the results of a year-long study tracking customer bill payment preferences when they were presented with the option of either paying by interacting with an agent or a fully automated (Self Service) IVR Payment system. Datatel's thoughts when analyzing the results of the study and producing the video were that this information was something worth sharing with merchants of all sizes and types. Many are looking for ways in a time of reorganization and restructuring mandated by the economic conditions created as a result of the ongoing pandemic to better service their customers while at the same time, protecting their own bottom lines, and IVR Payments and Payment Technology provides them with more convenient and secure bill-paying options, while at the same time reducing staffing costs and/or allowing for redeploying their staffing resources more efficiently. Through the use of detailed and easy to follow visuals, the video, which can be found here, illustrates in great depth how customer bill payment preferences can evolve when they are provided with alternatives, as well as how this can benefit both customers AND businesses.
Datatel tracked the data of a company, over a 12-month period, that offered its customers the choice of interacting with an agent or with a payment Self-Service system that was fully automated when paying their bills. While initially, the preference was for interacting with an agent, over a relatively short period of time this preference completely reversed itself in favor of the fully automated option and has remained so ever since. The implications for businesses are therefore significant both in terms of saving on staffing costs and making operations more efficient while simultaneously improving both the payment security and convenience of their customers.
To watch the video click here
About Datatel​
24 years ago we launched Datatel with the vision to deliver innovative payment software and secure voice communication solutions to help our clients become more agile, profitable, secure, and successful. Datatel's IVR Payments, Payment Technology, and transaction automation solutions are employed globally by thousands of businesses, healthcare providers, academic institutions, government, software companies, and service providers. Our success comes from investing in our people, our customers, our partners, and technology. With a focus on innovation, we have arrived at a service delivery model that guarantees our customers' satisfaction.
Source: Datatel Communications Inc/Datatel Inc. in Canada
Share: