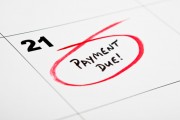 Datatel's Payment Reminders platform delivers friendly, automated payment reminders to customers using a combination of automated voice (IVR) and text messages which are designed to accelerate accounts receivable collections.
Miami, FL, September 15, 2015 (Newswire.com) - Datatel Communications Inc. /Datatel Inc. in Canada, a leader in IVR Services on the Cloud, provides Payment Reminders to help businesses accelerate accounts receivables collections while building on the principals of customer satisfaction through a proactive reminders approach.
Friendly, automated payment reminders are delivered to customers using a combination of automated voice (IVR) and text messages which can be tailored and scheduled to be sent on a particular day of your choice during the accounts receivable life-cycle.
As a result, customers are more likely to make a payment before it is due instead of accounts becoming delinquent, ultimately saving the business the high cost of collecting through collection agencies. In turn, this increases the business's cash flow. To streamline the collections process even further, businesses can provide customers with the option to make a payment immediately after a reminder call/text by leveraging Datatel's IVR Payments Platform.
Payment Reminders remain cost effective and simple to implement as it can be fed with customer accounts using data files typically available by most billing systems. This allows businesses to fully capitalize on their existing technology investment and vendor relationships.
About Datatel
Datatel is a leading provider of Secure IVR (Interactive Voice Response) Services on the Cloud. Datatel's IVR Services are employed by businesses, healthcare providers, research institutions, government and service providers to automate a wide range of caller interactions over the telephone - including payments, voting, surveys, patient communications, and employee tracking applications among others.
Datatel's IVR success comes from over 19 years of research, development and continuous improvement in delivering IVR service models that provide organizations with reliability, flexibility, and security. As a Cloud platform, Datatel maintains all infrastructures, reducing expenses and ensuring rapid and worry-free implementation.
For additional information, please visit: http://www.datatel-systems.com
Media Contacts:
Julie Huang
800-831-6660 x 255
Share: