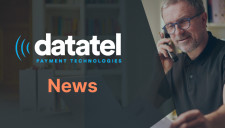 MIAMI & TORONTO, May 4, 2021 (Newswire.com) - Datatel Communications Inc. / Datatel Inc. in Canada, a leader in IVR Payments and Payment Technology for over 20 years announced the release of Datatel's Payment Reminders Plus, which combines the power of automated Voice and TXT Message Reminders with Payment Links in one easy to manage process that accelerates Invoice-to-Payment time.
Datatel's Payment Reminders Plus helps businesses reduce the number of missed payments and overdue accounts by automating the reminder process and incorporating an instant PCI Compliant payment method, while making it easier for customers to keep track of what they owe and when they need to pay.
In addition to providing a pre-populated payment link, businesses can also direct customers to all other payment channels which they may offer, thereby providing customers with flexibility and convenience.
Datatel's Payment Reminders Plus offers:
A simple to use web-based interface that it's easy for your staff to manage
Compatibility with any accounting software in a few easy steps
A personalized payment link sent to each customer with their amount to payso they can simply click on the link to pay by credit card
Get paid immediately with your existing merchant account
An entire payment process that is secure and PCI compliant
Datatel Payment Reminders Plus simplicity makes it easy for business of any size or industry to automate their payment reminders and accelerate payments.
For more information visit: https://www.datatel-systems.com/IVR/Applications/Payment-Reminders-Plus.aspx
About Datatel
Twenty-four years ago, we launched Datatel with the vision to deliver innovative payment software, and secure IVR communication solutions to help our clients become more agile, profitable, secure, and successful.
Datatel's IVR Payments, Payment Technology, and transaction automation solutions are employed globally by thousands of businesses, healthcare providers, academic institutions, government, software companies, and service providers.
Our success comes from investing in our people, our customers, our partners, and technology. With a focus on innovation, we have arrived at a service delivery model that guarantees our customers' satisfaction.
Source: Datatel Communications Inc. / Datatel Inc. in Canada
Share: