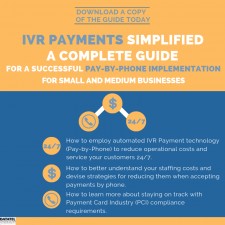 A Complete Guide for a Successful Pay-by-Phone Implementation.
MIAMI, April 9, 2019 (Newswire.com) - Datatel Communications Inc., a leader in IVR Payments, today released its new industry guide titled "IVR Payments Simplified For Small and Medium Businesses - A Complete Guide for a Successful Pay-by-Phone Implementation."
IVR Payments (Interactive Voice Response) is a technology that allows customers to make payments for bills, fees and contributions over the telephone by interacting with an automated system. Today's consumers expect to be able to buy and receive services when it is convenient for them, and this includes making bill payments. For small and medium-sized businesses, enabling 24/7 telephone payments does not mean having staff available at all hours of the day, as for many of them this would cost prohibitive. IVR Payments is one of the more effective tools that businesses can deploy towards bridging the gap between customers' expectations and business capabilities, while also enabling them to reduce operational costs.
This new information-rich guide has been crafted by industry experts specifically to help small and medium-sized businesses leverage the power of IVR Payments to achieve their business objectives. It covers a wide range of topics including:
How to employ automated IVR Payment technology (Pay-by-Phone) to reduce operational costs and service your customers 24/7
Better understand staffing costs and devising strategies for reducing them when accepting payments by phone
How to provide customers with a wider variety of convenient payment options that are available 24/7/365
How to leverage advanced, over-the-phone payment technology to stay on track with Payment Card Industry (PCI) compliance requirements
In addition, the guide provides a focused list of questions to help business managers identify their needs and help them get ready for a smooth and successful IVR Payments implementation.
Research has shown that a properly implemented automated Pay-by-Phone system can save small and medium-sized businesses anywhere from hundreds to tens of thousands of dollars per year. This informative new guide was crafted specifically to help managers to make informed decisions that will result in both better customer service and an improved bottom line.
To download a copy of the guide, visit this page: IVR Payments Guide
ABOUT DATATEL
Datatel delivers innovative software and voice communication solutions to help our clients become more agile, profitable and successful. Datatel's IVR Payments/Pay-by-Phone provides businesses with the most robust and cost-effective way to securely and easily process credit card payments 24/7 over the phone in a PCI compliant environment.
Datatel has been providing IVR Payment Solutions on the cloud to hundreds of businesses, health care providers, governments and non-profit organizations for over 10 years.
Datatel's success comes from investing in its people, clients and technology. With a focus on innovation, Datatel has arrived at a service delivery model that guarantees its customers satisfaction.
Source: Datatel Communications Inc.
Share: