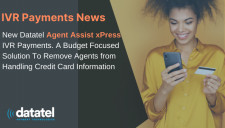 MIAMI & TORONTO, March 23, 2021 (Newswire.com) - Datatel Communications Inc. / Datatel Inc. in Canada, a leader in IVR Payments and Payment Technology for over 20 years announced the release of Agent Assist xPress IVR Payments Edition with a special emphasis on businesses who are budget focused.
Datatel's Agent Assist xPress offers businesses a PCI compliant, budget-friendly solution that removes live agents from having to handle credit card information. Agent Assist xPress is designed for a wide range of payment gateways and processors enabling a business to be up and running in days!
With Datatel's Agent Assist, your staff never handles any sensitive credit card information. Agent Assist xPress enables staff to enter customer-specific information before securing the line and removing themselves from the phone call. All credit card information is entered by the customer.
Datatel's Agent Assist xPress offers many benefits:
Works with in-office and home-based agents
Compatible with all phone systems
Eliminates Agent's handling of businesses customer's cardholder data
PCI DSS compliant
CryptoIVRTM IVR Payment encryption technology ensures maximum security
Connects seamlessly to major payment gateways and processors
Optional Spanish & French Language service
Optional Automated Payment File Exchange for easy reconciliation with business systems
Month-To-Month pricing with no long-term commitments
About Datatel
24 years ago, we launched Datatel with the vision to deliver innovative payment software, and secure IVR communication solutions to help our clients become more agile, profitable, secure, and successful.
Datatel's IVR Payments, Payment Technology, and transaction automation solutions are employed globally by thousands of businesses, healthcare providers, academic institutions, government, software companies, and service providers.
Our success comes from investing in our people, our customers, our partners, and technology. With a focus on innovation, we have arrived at a service delivery model that guarantees our customers' satisfaction.
Source: Datatel Communications Inc. / Datatel Inc. in Canada
Share: