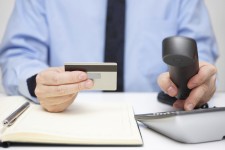 This new Pay-By-Phone capability by Datatel enables any merchant with an Authorize.net gateway or merchant account to activate self-service recurring, or subscription-based, transactions over the telephone removing live agents from handling credit card information.
Miami, Florida, June 7, 2016 (Newswire.com) - Datatel Communications Inc. in the US and /Datatel Inc. in Canada, a leader in PCI compliant IVR Payment Solutions on the Cloud announced today support for Authorize.net Automatic Recurring billing transactions.  Datatel already provides merchants with the ability to remove live agents from collecting credit card information when taking payments over the telephone for single payment transactions. This new enhancement provides a wider range of solutions available to businesses who handle payments over the telephone.
With this new add on, Live Agents handling recurring billing, subscription type transactions can transfer customers to Datatel's Pay-By-Phone Platform. Agents then exit the call, ensuring the handling of client's Credit Card Information will be removed from the hands of your Live Agents, leaving callers confident that their information is Safe and secure in a PCI Compliant environment.
"We are committed to continue to add features to our IVR Payment platform that enhances how our clients engage with their customer over the telephone when taking payments."
Datatel's
IVR Pay-By-Phone Platform provides business' with the most robust and cost effective way to securely, and easily process credit card payments 24/7 over the Telephone, in a PCI Compliant environment.​
About Datatel ​
Datatel's IVR Pay-By-Phone Platform provides your business with the most Robust and Cost Effective way to securely, and easily process Credit Card payments 24/7 over the Telephone, in a PCI Compliant environment
Datatel has been providing IVR Payment Solutions on the Cloud to Hundreds of Businesses, Healthcare Providers, Governments, and Non-For-Profit Organizations for almost 10 years.
20 Years ago we launched Datatel with the vision to deliver innovative software and voice communication solutions to help our clients become more agile, profitable and successful.
Our success comes from investing in our people, our clients and technology. With a focus on innovation we have arrived to a service delivery model that guarantees our customers satisfaction.
For additional information, please visit http://www.datatel-systems.com.
Media Contacts:
Hamed Safi
800-831-6660 x 255
*** Automatic Recurring Billing is a trademark of Authorize.net
*** Datatel is an Authorize.Net Certified 3rd Party service provider.
Source: Datatel Communications & Datatel Inc.
Share: