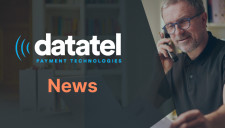 Miami, Florida/Toronto, Ontario, April 14, 2021 (Newswire.com) - Datatel Communications Inc./Datatel Inc. In Canada, a leader in IVR Payments and Payment Technology for more than 20 years is helping healthcare organizations keep patient payment information secure with automated phone payment technology.
While COVID is placing stress on all elements of healthcare providers business processes, One of the challenges that the healthcare sector faces is implementing secure, cost-effective payment channels for patients that are easy to operate and that effectively safeguard all patient information while integrating seamlessly with a multitude of payment gateway and payment processors and with their existing patient financial systems.
IVR (Interactive Voice Response) Payments is a technology that allows patients to make payments over the telephone by interacting with an automated system, rather than providing their credit card information to a live agent. Because it is fully automated, an IVR Payment solution is not subject to the limits imposed by regular business hours and can instead operate 24/7.
This is how Patient Self-Service IVR Payments work:
The Patient is directed to call a phone number which is available 24/7.
The Patient is prompted to enter a patient reference number - i.e. an account #, invoice # etc. for example it would sound like this, "Please Enter your account # now "
Upon entry the patient is presented with their account balance (for example "your balance is $150.00")
Next the patient is prompted to enter their credit card information (an eCheck/ACH option can also be available)
Once the patient enters their credit card information, the IVR Payment system will transmit the information to the healthcare providers payment gateway in real-time for authorization.
Once the transaction is authorized, (which usually takes only one or two seconds) the patient receives a confirmation that the payment was received by the healthcare provider.
In addition to a verbal confirmation the patient can also request for a text message confirmation which would be sent to the patients mobile phone.
Implementation of Self-Service IVR Payments not only can help healthcare providers address PCI compliance requirements, they can potentially save healthcare providers thousands of staff hours per year, while providing patients the ability to make payments 24/7 on evenings, weekends and holidays which translated staffing cost reductions and accelerate invoice-to-cash time.
For more information on IVR Payments visit: https://www.datatel-systems.com/IVR-Payments
About Datatel
Twenty-four years ago, we launched Datatel with the vision to deliver innovative payment software, and secure IVR communication solutions to help our clients become more agile, profitable, secure, and successful.
Datatel's IVR Payments, Payment Technology, and transaction automation solutions are employed globally by thousands of businesses, healthcare providers, academic institutions, government, software companies, and service providers.
Our success comes from investing in our people, our customers, our partners, and technology. With a focus on innovation, we have arrived at a service delivery model that guarantees our customers' satisfaction.
Source: Datatel Communications Inc./Datatel Inc. In Canada
Share: