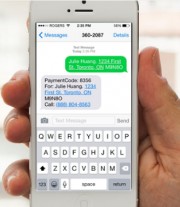 Datatel Communications Inc. introduces its TXT-2-Donate platform for Charities - allowing charities to provide their donors with a secure, simple way to initiate a Pay-by-Phone donation payment via a text message.
Miami, FL, June 30, 2015 (Newswire.com) - Datatel Communications Inc. / Datatel Inc. in Canada, a leader in Pay-by-Phone solutions on the Cloud, introduces TXT-2-Donate for Charities to provide an instant, hassle-free way for charities to collect donation payments 24/7 via mobile phone.
Through Datatel's TXT-2-Donate platform, donors initiate a secure donation payment by texting their name and address to a charity specific number provided by Datatel, which the charity publishes. No credit card information is ever transmitted via text.
The donor will receive a text response with a unique payment code and a telephone number to call to make the donation payment using their credit card. This process is completely secure. After the call is complete, the donor will receive a donation payment receipt via a text message. Meanwhile, the charity can easily track each payment as they also receive a confirmation of payment including donor information via e-mail. All funds are deposited to the charity's merchant account.
The benefits of this donation payment method extend beyond just the convenience and ease of use. It adds another fund-raising channel for charities to increase revenue and reduce missed opportunities to collect donations. Additionally, since TXT-2-Donate is fully automated, it saves the charities the effort of designating a person to take payments over the telephone. Nonetheless, TXT-2-Donate is still low cost and easy to implement.
About Datatel
Datatel provides the most cost effective and easy-to-deploy IVR payment platform for 24/7 credit card and ACH payment processing over the telephone. As a PCI-DSS compliant Cloud service, there is no software or hardware to buy or install. We also provide connectivity to all major credit card processors in the US and Canada – allowing our clients to continue using their existing merchant account and banking relationships.
With Datatel's IVR services, the handling of sensitive credit card information by sales, service delivery, customer service agents and in-house self-service IVR is removed, therefore helping our clients achieve PCI compliance. Our services are employed by business and service providers to automate a wide range of customer interactions over the telephone.
For additional information, please visit: http://www.datatel-systems.com
Media Contacts:
Julie Huang
800-831-6660 x 255
Share: