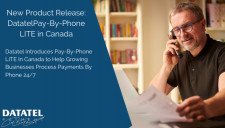 TORONTO, February 9, 2021 (Newswire.com) - Datatel Inc., a leader in IVR Payments and Payment Technology for over 20 years, today announced DatatelPay-By-Phone LITE in Canada, a new Budget-priced IVR Payments edition designed for companies across multiple industries. DatatelPay-By-Phone LITE removes the need for employees to handle customers' sensitive credit card information while offering them an easy and secure way to pay 24/7 over the telephone. In addition to helping companies achieve PCI compliance, DatatelPay-By-Phone LITE seamlessly plugs into businesses' merchant accounts, enabling them to be up and running in no time.
Built on Datatel's CryptoIVR, DatatelPay-By-Phone LITE allows companies to offer customers who would usually call in to a business to make a "bill" payment a secure, effortless way to do so 24/7 via a secure interactive phone system. It also presents management with the opportunity to re-calibrate their approach to taking payments. In addition to providing their customers with a more convenient and secure method of paying their bills, the adoption of an automated pay by phone strategy enables businesses to realize significant cost benefits. This can either be in the form of lower overall labor costs and/or a more efficient utilization of existing personnel to shore up and/or grow and improve other areas of the business.
DatatelPay-By-Phone LITE includes the following capabilities and features:
Process payments 24/7. Workdays, Evenings and Weekends
Customers can securely pay by phone via a fully automated self-service 
Eliminate the need for staff to handle payment calls and customer credit card information
CryptoIVRTM IVR Payment encryption technology ensures maximum security
PCI DSS compliant
Handles multiple callers at the same time
Connects seamlessly to your own merchant account
Rapid implementation
Budget-priced month-to-month service with no long-term commitments
More information
Learn more about DatatelPay-By-Phone LITE here.
About Datatel
Twenty-four years ago, we launched Datatel with the vision to deliver innovative payment software, and secure IVR communication solutions to help our clients become more agile, profitable, secure, and successful.
Datatel's IVR Payments, Payment Technology, and transaction automation solutions are employed globally by thousands of businesses, healthcare providers, academic institutions, government, software companies, and service providers.
Our success comes from investing in our people, our customers, our partners, and technology. With a focus on innovation, we have arrived at a service delivery model that guarantees our customers' satisfaction.
Source: Datatel Inc.
Share: