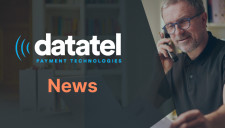 MIAMI and TORONTO, April 27, 2021 (Newswire.com) - Datatel Communications Inc./Datatel Inc. in Canada, a leader in IVR Payments and Payment Technology for more than 20 years, is responding to the needs of healthcare organizations to keep patient payment information secure in light of conditions created by the Covid pandemic.
Since the pandemic's onset in March of 2020 businesses across all industries have had to recalibrate many of their practices from staffing to logistics to billing, and healthcare organizations are certainly no exception. One of their key challenges involves the need for secure, cost-effective payment method solutions for patients that are easy to implement and operate and that effectively safeguard all patient information while integrating seamlessly with their existing patient financial systems.
One of the payment solutions offered by Datatel that addresses these challenges is Datatel Payment Links. Payment Links enable healthcare organizations to accept remote payments from their patients by sending them a pre-populated, personalized web link. Because the link is pre-populated and is sent either to their email or mobile device (or both), the patient can complete the payment process quickly and easily.
How Do Payment Links Work?
Once subscribed to a Payment Link service, a healthcare provider sends a personalized payment link by entering basic information into a web portal including:
The Patients Name
A patient identifier that is assigned by the healthcare provider
The amount to pay
The Patient's contact details (which can be an email or mobile #, or both)
With a click of a button a personalized payment link is sent to and immediately received by the patient who once they have verified the information can then make a payment by entering their credit card #. Both they and the healthcare provider receive immediate confirmation that the payment has been completed.
With Payment Links healthcare providers need not personally handle any patient credit card information thus, enabling them to maintain PCI compliance and (in the U.S.) HIPAA compliance as well. Payment Links can be used to collect remote payments for Telemedicine appointments, in advance of procedures, to remind patients of an upcoming balance due and even for booking appointments and procedures. Payment Links are a method by which healthcare providers can minimize face-to-face contact and adhere to social distancing mandates and guidelines while simultaneously managing patient payments in an efficient, secure, and mutually convenient environment.
For more information on Payment Links visit: https://www.datatel-systems.com/Payment-Links.aspx
About Datatel
Twenty-four years ago, we launched Datatel with the vision to deliver innovative payment software, and secure IVR communication solutions to help our clients become more agile, profitable, secure, and successful.
Datatel's IVR Payments, Payment Technology, and transaction automation solutions are employed globally by thousands of businesses, healthcare providers, academic institutions, government, software companies, and service providers.
Our success comes from investing in our people, our customers, our partners, and technology. With a focus on innovation, we have arrived at a service delivery model that guarantees our customers' satisfaction.
Source: Datatel Communications Inc./Datatel Inc. In Canada
Share: