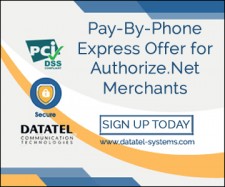 Authorize.Net Merchants, now until July 31, save 30% on the first two months of your Datatel Communications Inc Pay-By-Phone Express Subscription.
MIAMI, July 10, 2018 (Newswire.com) - Datatel Communications Inc., a leader in IVR Payments today announced a special offer exclusive for Authorize.Net merchants. Authorize.Net Merchants, now until July 31, save 30% on the first 2 months of their Pay-By-Phone Express Subscription.
Datatel's Pay-By-Phone Express helps businesses to remove live agents from handling sensitive credit card information and provide their customers with an effortless and secure way to make a payment 24/7 over the telephone. Not only do Automated Pay-By-Phone Payments address PCI compliance requirements, but they can reduce workload by hundreds of hours a year businesses thousands of dollars a year.
Datatel's IVR Payments Express for Authorize.Net provides pre-packaged templates which can be easily branded for any business. As a Cloud solution Implementation is quick and simple and there is no lengthy application development, and businesses can leverage their existing Authorize.Net services.
"We are observing more small, medium size businesses and healthcare providers adopting PCI Security standards, Datatel's PCI Compliant IVR Payments Express provides them a cost-effective way to address their 24/7 telephone payment needs without breaking the bank," said Barnard Crespi, Datatel's Co-CEO.
About Datatel
20 Years ago we launched Datatel with the vision to deliver innovative software and voice communication solutions to help our clients become more agile, profitable, and successful.
Datatel's Pay-By-Phone / IVR Payments SaaS Platform provides businesses with the most robust and cost-effective way to securely and easily process credit card payments 24/7 over the phone, in a PCI Compliant environment.
Datatel has been providing IVR Payment Solutions on the cloud to hundreds of businesses, healthcare providers, governments, and non-profit organizations for over ten years.
Our success comes from investing in our people, our clients, and technology. With a focus on innovation, we have arrived at a service delivery model that guarantees our customers satisfaction.
Source: Datatel Communications Inc.
Share: